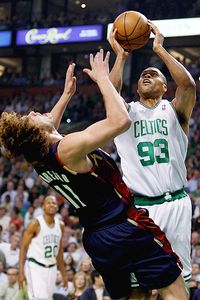 …Because it looks like he may need all of the money he can get his hands on. 
ESPN's Marc Stein reports that the NBA will look to dish out fines to players that are determined to be guilty of the ever-popular "flopping." 
The league office has yet to determine exact fine amounts for offending flops and how fines might escalate for repeat offenders, but in-game arena observers and video reviewers will be instructed to report instances of theatrical flopping for potential punishment as part of postgame reports on officiating and other matters.
While I'm unsure as to why you would need in-game observers and video reviewers, I think that this is a step in the right direction for the leauge.  Granted, we have a guy that is most notorious for winding up on his back whenever the ball enters the lane, this will force teams to stop playing like they're on roller skates. 
If you go to the ESPN link, you'll find some colorful commentary from Detroit's Rasheed Wallace.  Needless to say, he's also supportive of the pending rule-change.
Fines will be imposed for clear cases of flopping [ESPN.com]