With the MLB All-Star Break underway, it is time to take a look back at the top prospects in the Cleveland Indians organization. The major league club has shown some promise in the early goings of the 2010 season, but sit at the halfway point in last place in the Central Division with a 34-54 record.
Two of these top 10 players below are currently with the Indians major league team and have had very different early results. Among the other eight players as ranked by Baseball America prior to the season, three currently play for the Class AAA Columbus Clippers, two are with the Double-A Akron Aeros and another has yet to play at all this year. Without any further ado, here is an update on how they are progressing so far (stats as of games completed Saturday):
1. Carlos Santana, C – 5'11", 190-lbs, Born 4/8/86

2010 with Columbus: 57 GP, .316 avg, 13 HR, 51 RBI, 6 SB, .447 OBP, .597 SLUG
2010 with Cleveland: 28 GP, .278 avg, 5 HR, 16 RBI, 0 SB, .426 OBP, .567 SLUG
Combined Totals: 85 GP, .304 avg, 18 HR, 67 RBI, 6 SB, .440 OBP, .587 SLUG
Some might be afraid because of the drop in batting average, but it is phenomenal to see how consistent the rest of the numbers are in the major leagues. Over the course of a 162-game season, his MLB averages indicate 25 home runs and 90 RBI along with an advanced line of .275/.425/.550 that would certainly rank among the best for catchers. Santana is the real deal and he has proven it with Cleveland over the past month. The team even shipped out back-up catcher Mike Redmond to make room for super utility guy Chris Gimenez since Santana is handling the duties behind the plate so well. Sit back and relax Tribe fans, Santana will be a pleasure to watch over the next half dozen years at least.
2. Lonnie Chisenhall, 3B – 6'1″, 200-lbs, Born 10/4/88
2010 with Akron: 66 GP, .267 avg, 8 HR, 37 RBI, 1 SB, .341 OBP, .410 SLUG
Cleveland's first round (29th overall) selection in the June 2008 Draft, Chisenhall has had an up-and-down season with the Aeros. He earned the promotion to Double-A last August and was a huge reason why Akron was crowned the 2009 EL Champions in September. This year however, he failed to hit a home run in the first month while being bothered by a shoulder injury. He missed 16 days  and returned with a renewed sense of power on May 28th, promptly reaching base safely in each of his first 15 games and now batting .271 with all eight homers and 31 RBI in these 39 games.  He was one of two Indians prospects to participate in Sunday night's MLB XM All-Star Futures Game and he should stay in Double-A for the remainder of the year so he can prove a bit more with his consistent approach to hitting.
3. Nick Hagadone, LHP – 6'5″, 230-lbs, Born 1/1/86
2010 with Kinston: 1-3, 2.39 ERA, 10 starts, 37.2 IP, 28 H, 29 BB, 45 K
2010 with Akron: 1-0, 5.48 ERA, 6 starts, 23.0 IP, 23 H, 18 BB, 24 K
Combined Totals: 2-3,  3.56 ERA, 16 starts, 60.2 IP, 51 H, 47 BB, 69 K
One of the main pieces of the Victor Martinez trade with the Boston Red Sox last July, Hagadone is a big left-hander with a very intimidating presence on the mound. His fastball is definitely major league worthy and he continues to develop his secondary pitches in the minor leagues as well as refining a consistent approach to the plate. He continues to recover from June 2008 Tommy John reconstructive elbow surgery and has been on a limited pitch count pretty much all season. Despite that limit, he still led the Class A Carolina League in walks before his promotion to Double-A on June 1st. He was recently placed on the short-season Class A Mahoning Valley roster for a week before landing on the disabled list just now. Hopes are that he can recover and finish the year strong for the Aeros but he remains a highly touted prospect with a ton of upside.
4. Jason Knapp, RHP – 6'5″, 235-lbs, Born 8/31/90
The lone top prospect not to appear in a contest this season, Knapp is recovering from off-season shoulder surgery. Reports are that he will resume pitching activities within the next few weeks and potentially spend the final month of the season with the Class A Kinston Indians. Knapp is one of the most intriguing players on this list as at only 18 years old, he was highlighted as the center piece pitching prospect in the Cliff Lee trade with the Philadelphia Phillies last season. Originally drafted in the second round of the June 2008 Draft out of North Hunterdon High School in Pottersville, NJ, the young righty has two plus-pitches that has scouts drooling all across the major leagues. Although he will be limited for the rest of the calendar year, Knapp should look forward to a healthy 2011 season where he may end up in Akron or Columbus by the time he turns 21 years old.
5. Michael Brantley, OF – 6'2″, 200-lbs, Born 5/15/87
2010 with Columbus: 59 GP, .315 avg, 3 HR, 26 RBI, 11 SB, .391 OBP, .407 SLUG
2010 with Cleveland: 18 GP, .127 avg, 1 HR, 5 RBI, 0 SB, .176 OBP, .190 SLUG
Combined Totals: 77 GP, .276 avg, 4 HR, 31 RBI, 11 SB, .348 OBP,  .362 SLUG
Now playing and leading off for your Cleveland Indians is this outfielder acquired as the player-to-be-named-later in the C.C. Sabathia deal with the Milwaukee Brewers. Often overlooked about Brantley is the fact that he is still only 23 years old, just a few months older than Nick Weglarz and actually younger than Jason Kipnis, two prospects ranked lower on this list with much less upper-level experience. Drafted out of high school in 2005, this speedy outfielder projects to be a solid on-base guy with decent leadoff potential in the major leagues and has already appeared in 175 games with 806 plate appearances in Class AAA. Brantley has struggled in Cleveland so far, but give him time because of his youth and projectable talents such as reaching base, drawing walks and stealing bases.
6. Nick Weglarz, OF – 6'3″, 240-lbs, Born 12/16/87
2010 with Akron: 37 GP, .285 avg, 7 HR, 27 RBI, 1 SB, .387 OBP, .511 SLUG
2010 with Columbus: 37 GP, .252 avg, 2 HR, 14 RBI, 2 SB, .359 OBP, .405 SLUG
Combined Totals: 74 GP, .269 avg, 9 HR, 41 RBI, 3 SB, .373 OBP, .459 SLUG
If you recall from my Aeros updates last season, this is a prospect that I believe is often overlooked within the Indians organization. In the upper levels and with the major league team, there are very few power potential guys like Weglarz that are built with a 6'3″, 240-lb. frame. The Canada native nicknamed "Big Red," he is finally starting to hit for a more consistent average last season after an injury-riddled 2009 in Double-A. Now the only thing bothering him besides the crowded outfield in Columbus is his drop in slugging numbers, something that I'm sure he is working on consistently with manager Mike Sarbaugh and the Clippers coaching staff. But alas, there is not too much immediate pressure on Weglarz with all the other corner outfielders in the Indians system, giving him another full year at Columbus to prove his prospect status.
7. Hector Rondon, RHP – 6'3″, 180-lbs, Born 2/26/88
2010 with Columbus: 1-3, 8.53 ERA, 7 starts, 31.2 IP, 48 H, 10 BB, 33 K
It's been a rough year for Rondon, the top pitching prospect in the organization last year who split the season between Akron and Columbus. He started out slow for the Clippers again this season before landing on the disabled list on May 13th with right forearm tightness. I have yet to see any official updates on his status, but don't be surprised if he rests for the remainder of the regular season in a similar fashion as lefty Kelvin De La Cruz did last year. Rondon's strikeout-to-walk numbers were still very impressive this season in limited time but he got rocked by the hitters and home run sluggers in the International League. He will begin the 2011 season at only 23 years old and will be the undoubted ace of the Clippers staff with a fresh start and a hopeful progression to Cleveland by the end of next season.
8. Carlos Carrasco, RHP – 6'3″, 215-lbs, Born 3/21/87
2010 with Columbus: 7-4, 4.38 ERA, 17 starts, 102.2 IP, 107 H, 38 BB, 89 K
After a total of 49 starts in Class AAA and a combined 841.1 innings pitched in the minor leagues, Carrasco is the seasoned veteran of this list, especially compared to the pitcher right below. He ranked among the top 55 prospects in all of baseball according to Baseball America before the 2007 through 2009 seasons, but has now fallen off the list after slowing down in the progression scale through the minor leagues. You have to like his 8.6 strikeouts and only 2.9 walks per nine innings in his history with Columbus and Lehigh Valley in the Philadelphia system, but that also comes with a 4.19 ERA. Eventually, a spot will clear up in the Indians starting rotation where Carrasco will finally be given a long-term chance to prove himself worthy of his heralded prospect status. Until then, expect the same consistent numbers in the minors from this righty.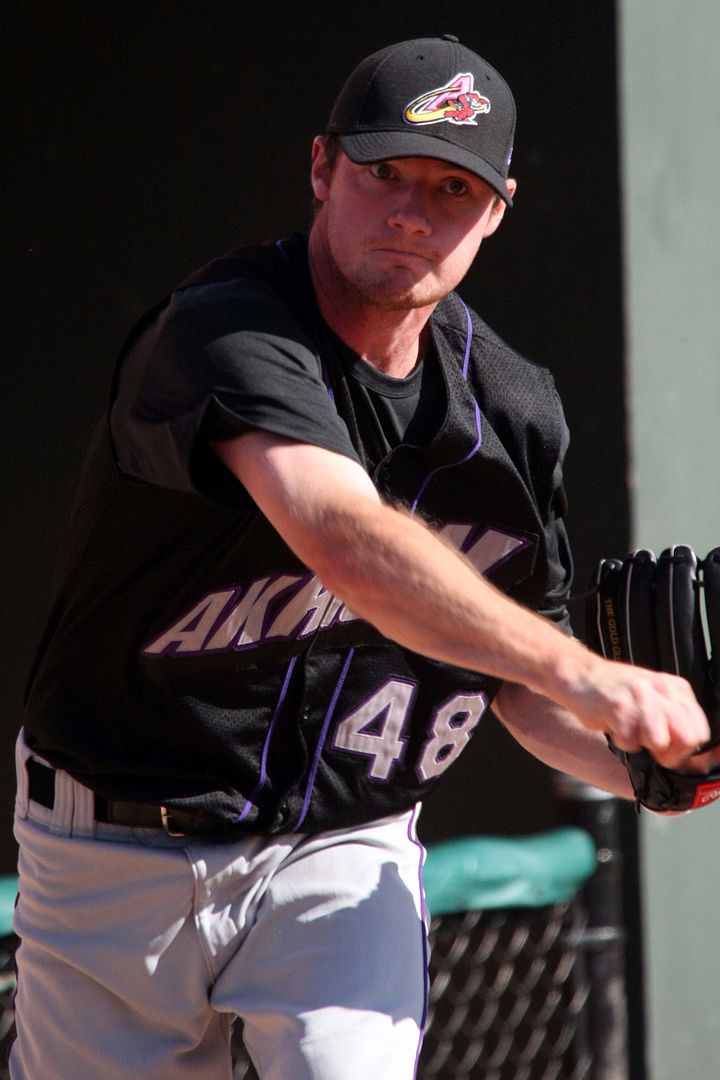 9. Alex White, RHP – 6'3″, 200-lbs, Born 8/29/88
2010 with Kinston: 2-3, 2.86 ERA, 8 starts, 44.0 IP, 32 H, 19 BB, 41 K
2010 with Akron: 4-4, 1.53 ERA, 10 starts, 59.0 IP, 41 H, 16 BB, 35 K
Combined Totals: 6-7, 2.10 ERA, 18 starts, 103.0 IP, 73 H, 35 BB, 76 K
One of the prospects that has gained the most so far from this 2010 season has been Cleveland's first-round (15th overall) selection from last year's draft. The University of North Carolina product fell victim to poor run support in the Class A Carolina League before earning the promotion to Akron on May 23rd. In his time with the Aeros, he has now dominated the Double-A Eastern League, holding opponents to a .190 batting average against while recording eight quality starts in 10 outings. Overall, he now has 12 quality starts in his past 14 appearances this season, and as a reminder, this is his first taste of professional baseball after signing in August last year with Cleveland. His strikeout numbers are not mind-blowing, but as a right-hander that punishes the ball to the ground (1.84 ground out to air out ratio with Akron), he has been one of the most impressive stars in the system. Baseball America recently named him the 47th best prospect in all of baseball in their mid-season rankings, up from 65th overall before the season, a sign that he will certainly jump in the Indians top 10 by spring training next year.
10. Jason Kipnis, 2B – 5'10", 175-lbs, Born 4/3/87
2010 with Kinston: 54 GP, .300 avg, 6 HR, 31 RBI, 2 SB, .387 OBP, .478 SLUG
2010 with Akron: 26 GP, .298 avg, 4 HR, 11 RBI, 1 SB, .381 OBP, .481 SLUG
Combined Totals: 80 GP, .300 avg, 10 HR, 42 RBI, 3 SB, .385 OBP, .479 SLUG
The final player ranked among the top 10 prospects prior to the 2010 season was Kipnis, a converted outfielder drafted in the second round of the June 2009 Draft out of Arizona State University. As a middle infield hitting prospect, Kipnis has certainly done his job very well so far and all of his totals with Kinston have flowed perfectly in about half the time with the Aeros thus far. If he can play average to above-average defense at second in the big league level plus totals of 20 homers, 80 RBI and .380 on-base percentage with a .480 slugging percentage, then this a perfect prospect for the Indians system. Chances are that he remains with Akron for the remainder of this season and moves on up to Columbus next year as the prized second base prospect coming up through the system.
(Photo of Santana via Ronald Martinez/Getty Images, photo of Brantley via Chuck Crow/The Plain Dealer and White via Tony Lastoria/Indians Prospect Insider)