Johnny Manziel may be getting all of the attention, but the bigger issue in Berea is that of wide receiver Josh Gordon. By now, you've heard that Gordon was pulled over on Memorial Day Weekend. He was only going 74 in a 60—hardly a criminal offense. The touchy part comes in the fact that one of the other three men in his car had a few leaves of marijuana on his person. Yes, Gordon's technically in the clear, but you have to be all aboard the excuse train if you're going to put the Pro Bowler in the clear.
The Plain Dealer's Terry Pluto penned a solid column this weekend that echoed much of what my feelings are on the matter. The guy can loaf through a week's worth of practice and then rip off 200 yards. He can miss a year of football all together and then jump right in—at the NFL level—as if he's playing a video game. In a vacuum, it's easy to make excuses for the incredibly talented Gordon. The merits of marijuana and the NFL's rules can be debated, but at the end of the day, they're rules—ones that he's very much aware of.
Whether or not he's guilty of any alleged violations or has anything to do with what went on during the Memorial Day incident mean little in the grand scheme. It's evident that Gordon's decision making and priorities are not in line with that of the city or the team which employs him. Cutting him doesn't make the team better, but damn if he isn't putting everyone above him in a tough place.
***
Check out contact rate heat maps on pitches thrown in the strike zone this season. One of them is Michael Brantley. The other is Mike Trout. Any guesses on which is which? Thanks, FanGraphs!
***
Speaking of Johnny Manziel, his boy Drake dropped a new track late Sunday. It's called 0-to-100/The Catch Up. It's rare that a hip-hop track lasts six-plus minutes, but this one does just that thanks to some beat changes and a pseudo interlude of sorts. A lot will be made of this in the coming weeks as Drake alluded to a new album this coming spring in addition to referencing himself as "the greatest." Kendrick Lamar's new album is set to release this fall—it's safe to assume he'll have some thoughts on this matter. In the meantime, pretend that Drake the Person isn't bordering on insufferable and give this track from Drake the Artist a quick listen. *Money Sign* (Lyrics are obviously not meant for work environments.)
***
Lonnie Chisenhall, motivational speaker?
***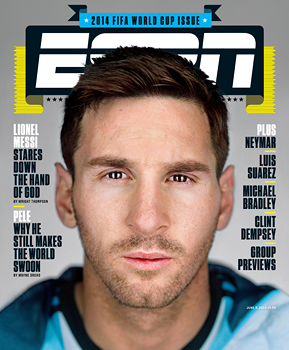 The World Cup is just a few weeks away from kicking off and WFNY's Craig, Joe and Mitch have been killing it on our end. That said, you also should know by now that I'm a huge magazine nerd and the latest issue of ESPN The Magazine is fantastic—a must-read for any soccer fans.
There are two long form features from both Wright Thompson (another on Lionel Messi) and Grant Wahl (one on Clint Dempsey). A few of these pieces will leak out over time—as one of Thompson's did last week—but there is so much more within the confines of those pages (like a two-page image on Cleveland's own Stipe Miocic, for instance) that it's worth anyone's one-day Starbucks money.
You can thank me later.
***
And finally: At WFNY, we're very fortunate to have a quality community of readers that extends well beyond that of most web-based properties. We get a slew of pitches and the occasional submission, many of which we can't use for a variety of reasons. This, however, was a bit different than most. Titled "On Dads, the Browns, and Cleveland," Daniel King discusses the ties that bind for generations of Cleveland fans who have lived through the plight of being a fan in this here town. You can follow Daniel on Twitter at @d_king11. In the meantime, please enjoy his words.
"Punch to the gut," is a cliché used often while receiving difficult news. Never have I understood this more than when I learned that my father had been diagnosed with Stage 4 terminal cancer one year ago this June. I felt our pain was shared. My insides twisted, muscles ached, and eyes burned. Death was not an aspect of life I had ever faced. Death was a headline, a Facebook Status about a grandparent, or losing the family pet. Sitting next to my father in the hospital, holding back tears and feeling my lips quivering were the most difficult hours of my life. I wanted to tell him everything that I was always scared to say because I didn't want to be a sissy. The certain sentences that existed in the space between us but were never formally communicated. I wanted to tell him how much I loved him, but could not utter that sentence without breaking down completely. I was instructed by my sister to "hold it together," and I did for the most part. I could not look at my sisters or him in the eye. My sisters and I asked him if he had any sort of bucket list: "Well…I'd like to make it to the Browns' opener."
After my Dad's consistent desire to be a hardass resulted in us not getting a ride to the stadium that night for the Browns-Bills game, we settled on parking in the bowels of downtown Cleveland: Underneath Tower City. I had made this walk what seems like thousands of times with him, usually in treacherous conditions with me bitching about not parking closer. "It's fun to walk through downtown in the weather," he would say. Yeah, that is the type of stuff he takes pleasure in. This time it was 70 degrees. It was a pleasant walk through the city center as we approached the stadium. The smell of alcohol, urine, and desperation fill my nostrils despite my attempts to strictly breathe through my mouth. Cleveland smells exactly what outsiders think it smells like. My jaded view of the Browns is inescapable. Another death march down Lakeside. I'm sober, which is frustrating. Being sober at a Browns game amongst the scores of drunks is awkward. But my dad is not sober. He's drunk off of the Browns.
"Run it down their f— throats," is something my dad says when the Browns get near the goal line last night. "Run it down their f— throats again," is something he says when their first running attempt gets stuffed at the goal line. I feel awkward when he says things like this, but after awhile I realize I'm the outsider here. I'm sober. I began to let my guard down, and admire my dad's appreciation for The Browns. It's so communal. Everyone in our section knows him and it's hilarious. They laugh when he yells ridiculous obscenities, and treat it as if he said something so expected they hardly flinch. It's his family, too. I will say something once in awhile to my Dad. "Weeden can make those sideline throws at least," for example. But I don't participate in the obscure yelling in the general direction of the field. My Dad sneaks off to smoke a cigarette. He has given up on cancer, but here we are pretending that Brandon Weeden is a capable quarterback.
The beginning of the game is exactly like every other Browns game I've been to with my Dad. The excitement is building during the walk to the stadium, the crowd is in a frenzy, and then the Browns start playing football. We're losing 10-0 quickly, and our starting QB who happens to be a St. Ignatius alum, appears to have the sliding ability of Jason Giambi. This game is different. The crowd is beyond its usual drunken whirl. The Browns are getting lucky, generally getting outplayed in the first half, but making up for it by special teams dominance.
It's halftime, and the Browns are celebrating Jim Brown's legacy. My dad says to me twice, "Greatest player I ever saw," as if I needed to hear it twice so it sinks in. He has said this to me an estimated 10,000 times in my life. He tears up. I think he loves Jim Brown the player because of what he represents to his childhood. This moment is surreal because I see my dad survey the scope of his life in terms of Jim Brown. He saw Jim Brown player when he was 12 years old. Jim Brown has grown old with my father, and here they are for one final salute to each other. It's a moment. I begin to think of me seeing LeBron when I'm older. I can't fathom it. He'll always be 26 year old LeBron; the youthful kid from Akron messing around in the pre-game warm-ups. Kyrie will always be this young. There is no old version of Kyrie Irving.
The Browns win, and we exit the stadium to raucous applause. I imagine my Dad leaving the stadium taking a bow, tipping his hat to the crowd. This is a new memory. It won't be confused with the many other Sunday afternoons of leaving disappointed and with the feeling of being ripped off. My dad might not go on a profanity laced tirade when we get to the car this time. He keeps smiling and fist pumping, and no matter what I will make this the last memory. This is the memory that will be exaggerated by me in 20 years when I'm telling this story.
We walk up the hill for the last time ever together. The finality of the moment is devastating. He's struggling to get up the hill, and I want to carry him to the car. We talk about the Browns, and then it is silent again. The words are dancing between us this time, dissolving into the downtown fall morning. Decades of unsaid admiration remain unsaid, but the time for goodbyes isn't now. The Browns have won and that is all that matters. Ironically, I conclude how the Browns have been such a consistent part of our relationship; a talking point that can break the awkward silence during any time of year. It has been tough for me to justify being a Browns fan, but now I get it—and it'll never be forgotten.